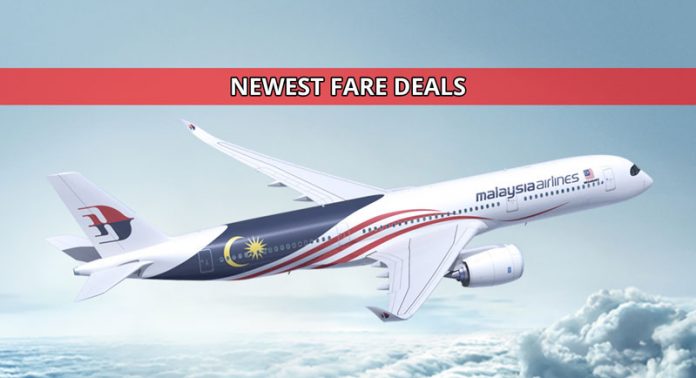 Don't have any Citibank credit card? Apply now and get any 1 of these 5 exclusive rewards: Delsey Air Armour 4 wheels Travel Suitcase 30" (valued at HK$3,899; Random Color) or Marshall Stanmore II Wireless Speaker (valued at HK$3,499; Random Color) or Philips RO Water Dispenser ADD6901HWH01/90 (valued at HK$2,488; White) or HK$1,600 Apple Store Gift Card or HK$1,600 Wellcome Shopping Voucher for FREE.
We'll be updating this article with the latest Malaysia Airlines promotions and deals. Bookmark this page and keep checking back for special sales.
Flight deals – All-in return from $2,222
Are you ready to explore the sights and sounds of your dream destinations? Malaysia Airlines is offering great flights with all-in return from $2,222 to amazing holiday spots.
Book before 19 Apr 2020.
Travel period: From now to 30 Nov 2020.
For booking and full terms & conditions, please click on the respective fares & destinations below or book now.
| To | From HKD | Class | book before | More deals |
| --- | --- | --- | --- | --- |
| Adelaide | 4474 HKD | Economy | 19 Apr 2020 | Book now |
| Alor Setar | 2222 HKD | Economy | 19 Apr 2020 | Book now |
| Auckland | 6873 HKD | Economy | 19 Apr 2020 | Book now |
| Bangkok | 3141 HKD | Economy | 19 Apr 2020 | Book now |
| Bengaluru | 3683 HKD | Economy | 19 Apr 2020 | Book now |
| Bintulu | 3092 HKD | Economy | 19 Apr 2020 | Book now |
| Brisbane | 4474 HKD | Economy | 19 Apr 2020 | Book now |
| Chennai | 3683 HKD | Economy | 19 Apr 2020 | Book now |
| Colombo | 4060 HKD | Economy | 19 Apr 2020 | Book now |
| Delhi | 3683 HKD | Economy | 19 Apr 2020 | Book now |
| Denpasar-Bali | 2952 HKD | Economy | 19 Apr 2020 | Book now |
| Dhaka | 4096 HKD | Economy | 19 Apr 2020 | Book now |
| Hyderabad | 3683 HKD | Economy | 19 Apr 2020 | Book now |
| Jakarta | 2952 HKD | Economy | 19 Apr 2020 | Book now |
| Johor Bahru | 2222 HKD | Economy | 19 Apr 2020 | Book now |
| Kathmandu | 4273 HKD | Economy | 19 Apr 2020 | Book now |
| Kota Bharu | 2222 HKD | Economy | 19 Apr 2020 | Book now |
| Kota Kinabalu | 3092 HKD | Economy | 19 Apr 2020 | Book now |
| Kuala Lumpur | 2062 HKD | Economy | 19 Apr 2020 | Book now |
| Kuala Terengganu | 2222 HKD | Economy | 19 Apr 2020 | Book now |
| Kuantan | 2222 HKD | Economy | 19 Apr 2020 | Book now |
| Kuching | 3092 HKD | Economy | 19 Apr 2020 | Book now |
| Labuan | 3092 HKD | Economy | 19 Apr 2020 | Book now |
| Langkawi | 2222 HKD | Economy | 19 Apr 2020 | Book now |
| London - Heathrow | 6106 HKD | Economy | 19 Apr 2020 | Book now |
| Medan Kuala Namu | 2952 HKD | Economy | 19 Apr 2020 | Book now |
| Melbourne | 4474 HKD | Economy | 19 Apr 2020 | Book now |
| Miri | 3092 HKD | Economy | 19 Apr 2020 | Book now |
| Mumbai | 3683 HKD | Economy | 19 Apr 2020 | Book now |
| Penang | 2222 HKD | Economy | 19 Apr 2020 | Book now |
| Perth | 4474 HKD | Economy | 19 Apr 2020 | Book now |
| Phuket | 3141 HKD | Economy | 19 Apr 2020 | Book now |
| Sandakan | 3092 HKD | Economy | 19 Apr 2020 | Book now |
| Sibu | 3092 HKD | Economy | 19 Apr 2020 | Book now |
| Singapore | 2222 HKD | Economy | 19 Apr 2020 | Book now |
| Surabaya Juanda | 2952 HKD | Economy | 19 Apr 2020 | Book now |
| Sydney | 4474 HKD | Economy | 19 Apr 2020 | Book now |
| Tawau | 3092 HKD | Economy | 19 Apr 2020 | Book now |
Foods & Drinks – 20% OFF
Get yourself a Starbucks beverage or any Kenny Rogers ROASTERS chicken meal with 20% off. Present your boarding pass (physical/digital) or MHvoucher at any outlet in Malaysia, except for Starbucks stores in Genting Highlands to get discount. The offer is valid within 48 hours upon departure.
Promotion starts from 20 Dec 2019 until 20 Dec 2020. Don't miss it