WeLab Bank – 10% rebate for all F&B spending
WeLab Bank is now launching the tastiest offer in town to all customers now.
When you successfully open your WeLab Bank account using referral code FOODIECode is copied, you can enjoy a 10% rebate on all spending on food and beverage.
This offer is applied on all days, all restaurants, and all delivery apps.
Promo period: From now till 31 December 2021.
With your WeLab Debit Card, you can dine to your heart's content in all your favourite restaurants while being rewarded!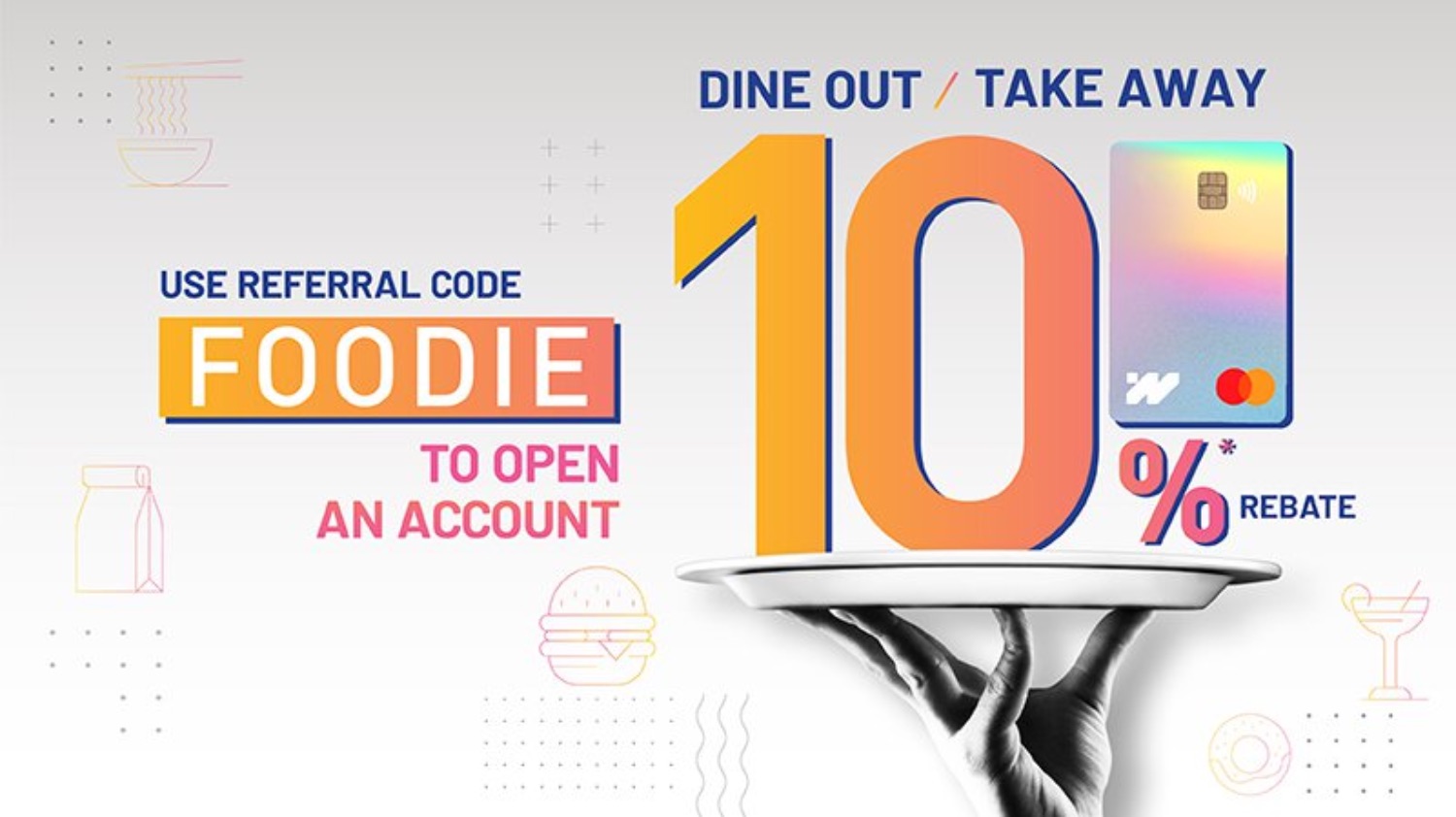 WeLab Bank Referral Campaign Promotions
Refer Your Friends – Earn Direct Referral Rewards Promo
WeLab Bank customers who successfully refer friends to open WeLab Bank accounts with their unique referral codes will receive up to HK$100 cash reward.
In the meantime, the new customers who are referred will also claim up to 100% spending rebate, capped at HK$100 in the first 30 days!
Promo period: From now until 30 November 2021.
Open a WeLab Bank account in as fast as 5 minutes and enjoy these great deals now!
Earn Rewards Even When Your Friend's Friend Refers Others: HK$50 OFF
WeLab Bank also offers the promotion that you can also score rewards just by your referees referring their own friends to open WeLab Bank accounts.
To be more specific, with each referral, both you and your friend can each earn HK$100 (layer 1), but each time your friend makes a successful referral (layer 2), you can also snag yourself HK$50 off.
Even when your friend's friend refers more people to join WeLab bank, you still can have the opportunity to get HK$50 each time.
The maximum number of layers of friends that you can earn the reward from is 3 layers.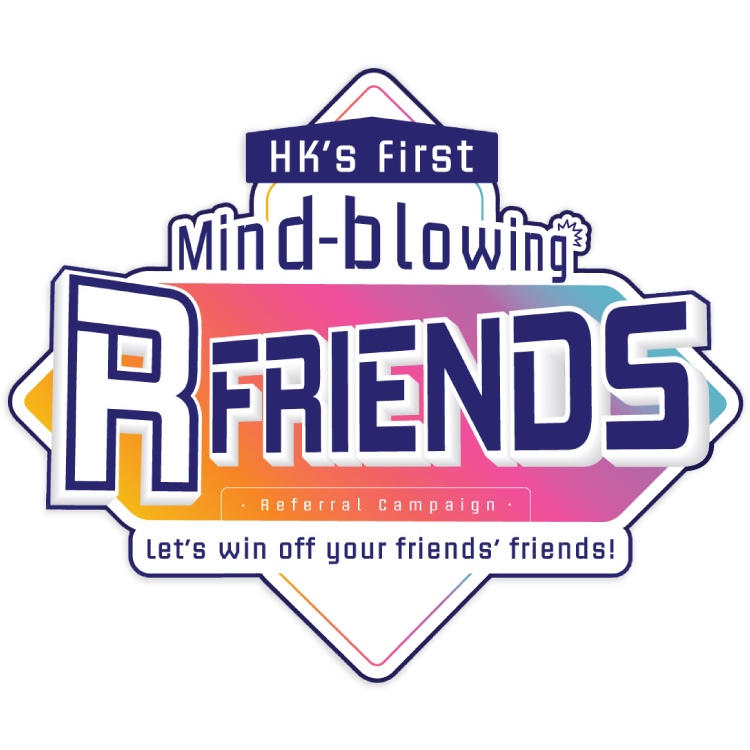 Hong Kong's First GoFlexi-Link Promo: HK$3,000 Cash Rebate
For a limited time, you can borrow money at a rate as low as 1.68% APR with GoFlexi, and then earn an interest rebate at the same rate for your deposit in the core account.
In addition, all customers will redeem the reward with up to HK$3,000 cash rebate for the successful loan drawdown.
* For a loan of HK$500,000, the daily interest is about HK$10 only, with HK$0 handling fee.
Click here and discover the GoFlexi personal loan now.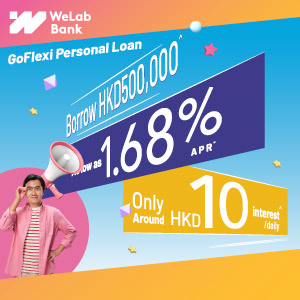 WeLab Bank Discount: Free HK$200 Coupon for Account Opening
Take advantage of this great promotion and snatch a HK$200 spending rebate when you successfully open an account at WeLab bank.
To enjoy this promotion, don't forget to paste this referral code KMB200Code is copied in the last step of the account opening procedure.
Promo period: From now until 31 December 2021.
Beside, with your WeLab Debit Card, you can also enjoy HK$2 off every KMB ride, and double the reward if you finish Welab bank in-bus mobile game! Especially, you can enjoy free KMB rides on designated days.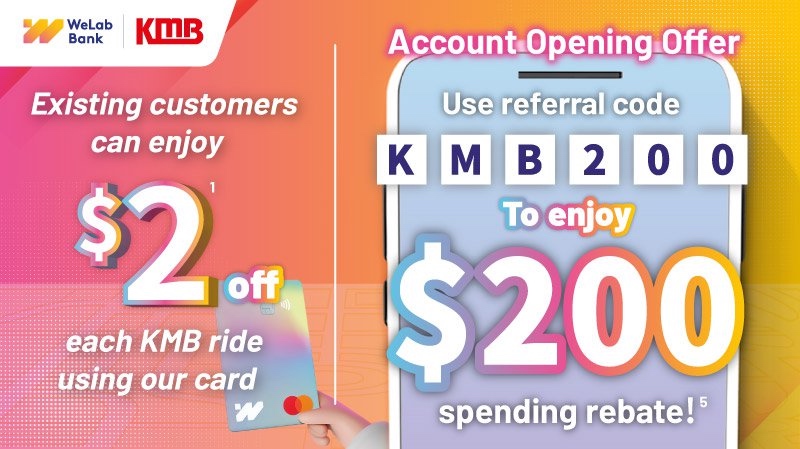 WeLab Bank Promotion: Up to 3% Cash Rebate for All F&B Spending
Treat your friends, family, or yourself to all sorts of cuisine in a wide range of restaurants and earn more in each meal with 1% cash rebate on any spending by WeLab Debit Card.
Moreover, by completing at least 10 transactions per month, you will get up to 3% cash rebate on all food and beverage spending.
You can earn the above rebate by taking your card to dine out, or using your virtual debit card via Apple Pay to place order in any food delivery app
Promo period: From now on to 31 December 2021.
Take advantage of this great deal to enjoy all sorts of cuisine and earn in each meal in all restaurants!