We'll be updating this article with the latest Subway Hong Kong coupons and promotions. Bookmark this page and keep checking back for special deals.
Alternatively, you may want to checkout dining deals from Popeyes, KFC, McDonald's, MOS Burger, Pizza Express, and Pizza Box!
Subway Limited-time Promo: Free Cookie
Take advantage of this special deal from Subway Hong Kong and enjoy free items on your purchase!
That is, you can receive a cookie for free when you purchase a 6-inch Vegetarian Chicken Schnitzel from Subway restaurant.
Promotion period: valid from now to 23 November 2021.
*Choice of cookie flavor is subject to restaurant availability.
Terms & Conditions apply. Hurry! While stocks last!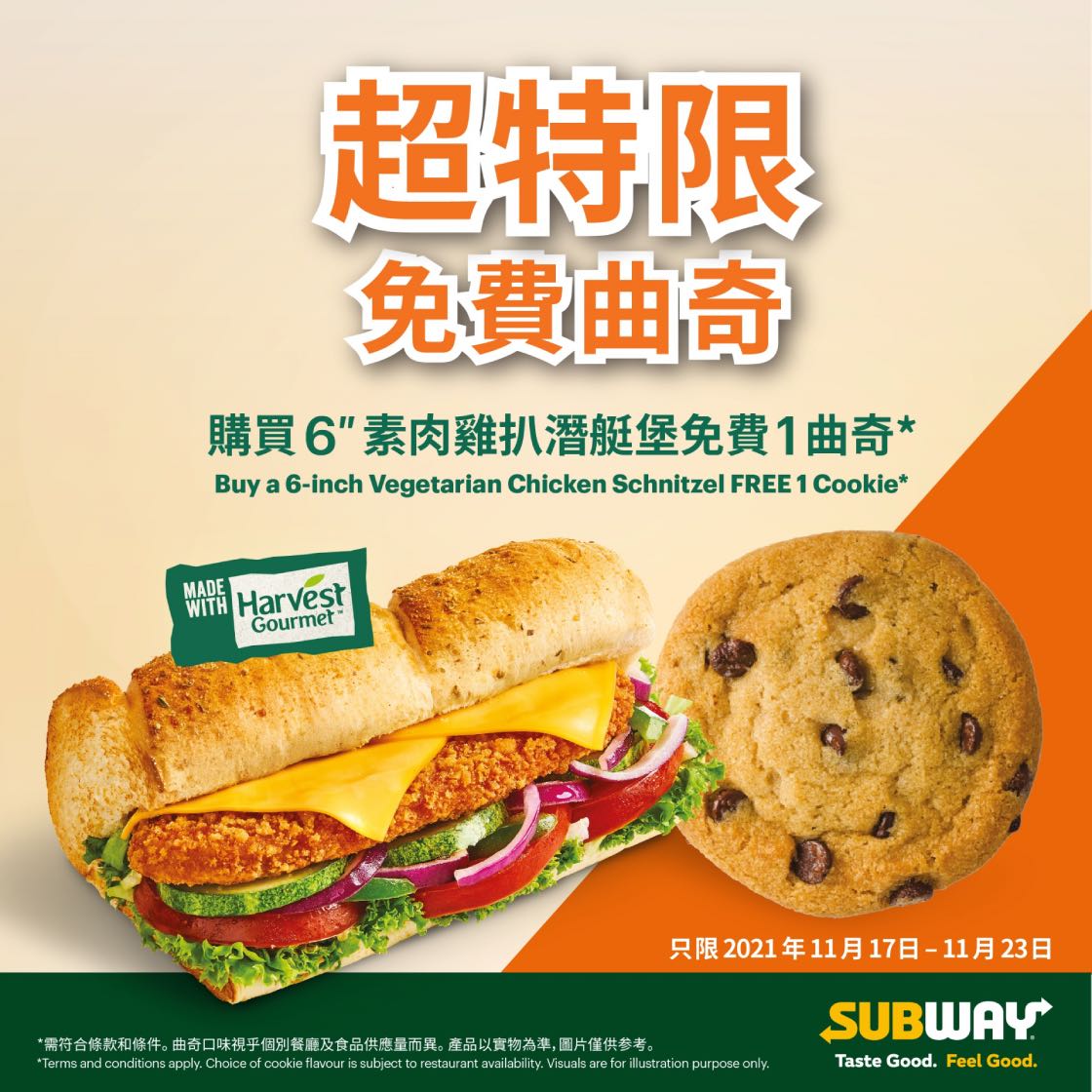 Subway Everyday Value Combo Promotion: HK$34
Subway HK has newly launched a new Everyday value fresh combo with new sub-line-ups and great value with the price as low as HK$34, including:
Egg & Tuna sub: Stacked with deliciously awesome tuna chunks, scrambled eggs, your desired flavourful sauces, and fresh veggies! This deal is perfect for breakfast, lunch, and dinner too!
You want more tasty combos? Choose from B.L.T, Chili Chicken, or Veggie Delite and make it a meal with your desired drink and chips or cookies.
In this promo, you can enjoy Add-on special deal including chips for HK$8 added or freshly-baked cookies for HK$6 added.
*Everyday Value Fresh Combos is not available at Star Ferry, Ngong Ping, and all university outlets.
Check out these combos and experience the feeling of satisfaction and craving with these great flavors!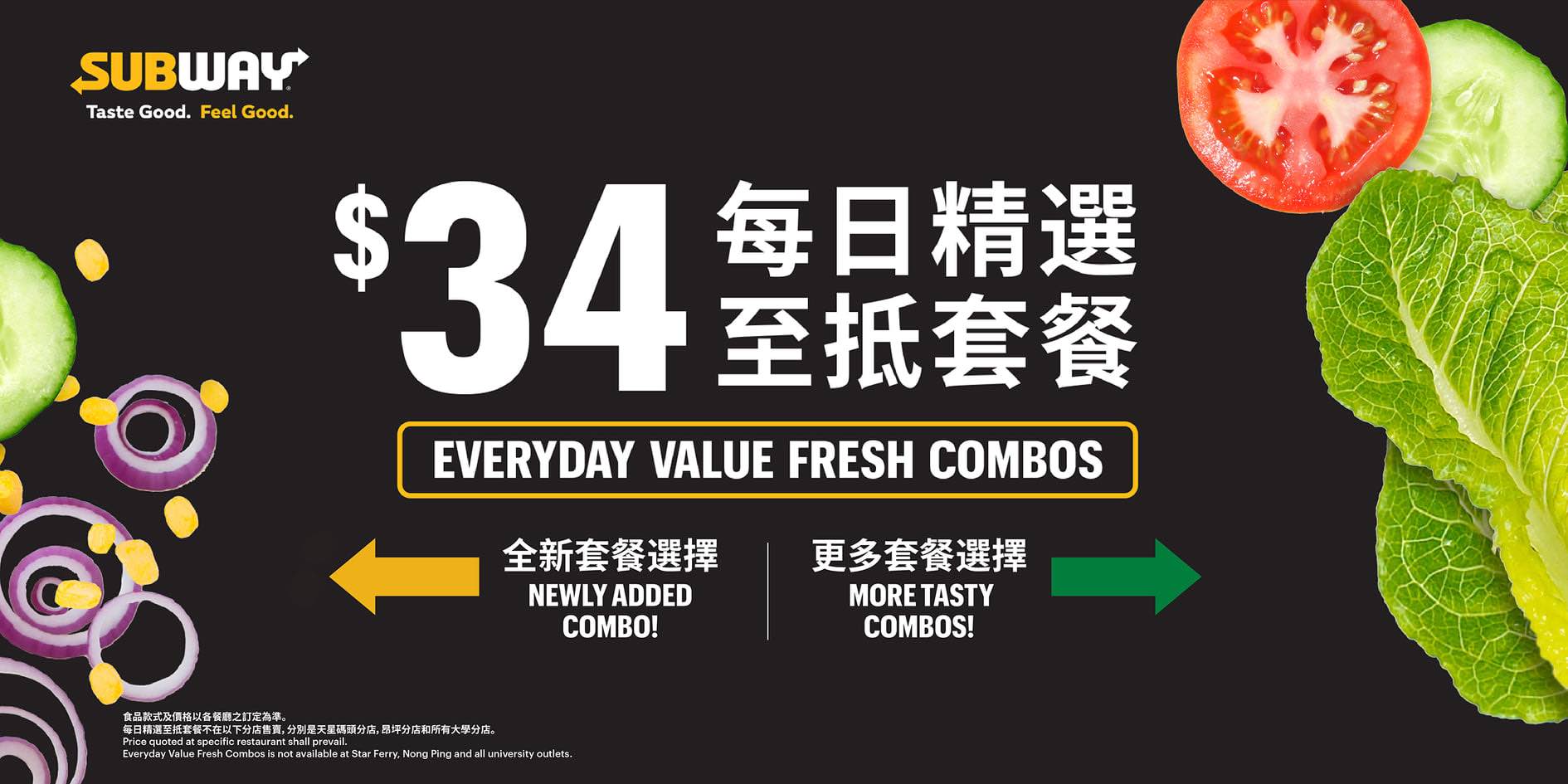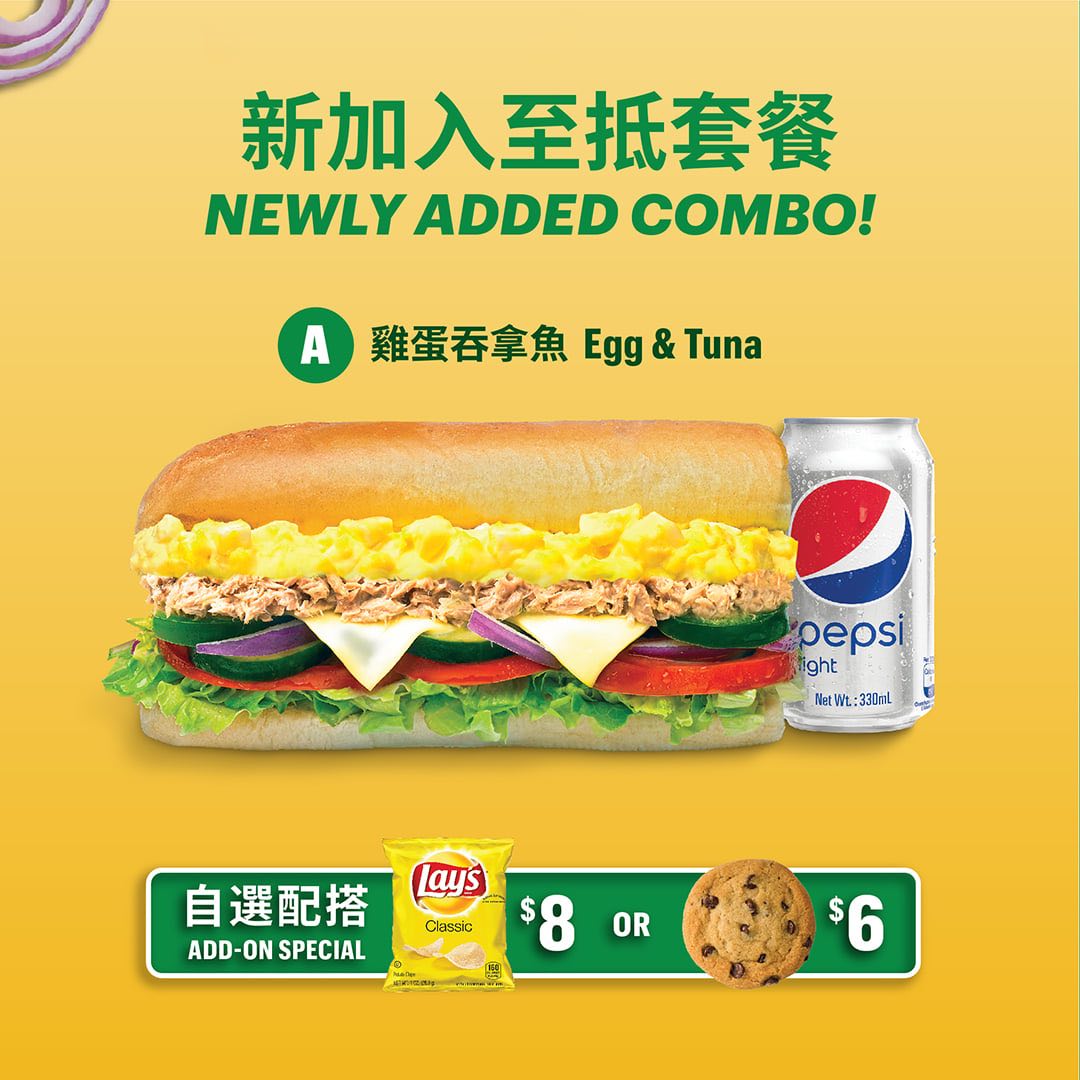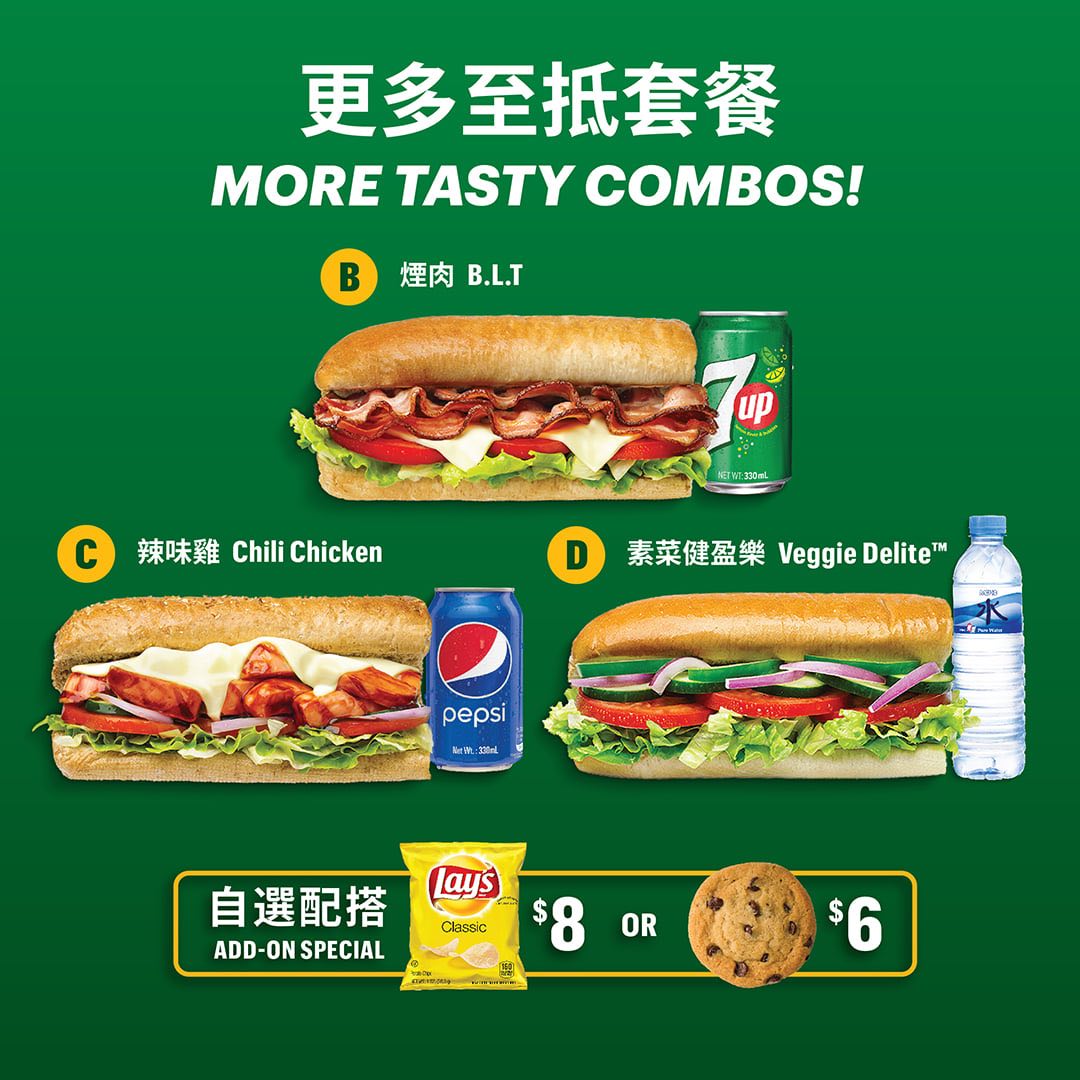 Subway New Sub Promo: Tri-Pepper Chicken and Vegetarian Chicken Schnitzel
Head into the nearest Subway to discover this new treat with your bestie and try the all-new flavorsome subs from the restaurant.
This time's offer includes the explosive Tri-Pepper Chicken and the meat-free Vegetarian Chicken Schnitzel.
Especially, the Vegetarian Chicken Schnitzel at Subway is suitable for Ovo-vegetarian (order without cheese).
Grab one or both limited-time offers before they are gone and enjoy the fresh and delicious taste in every bite now!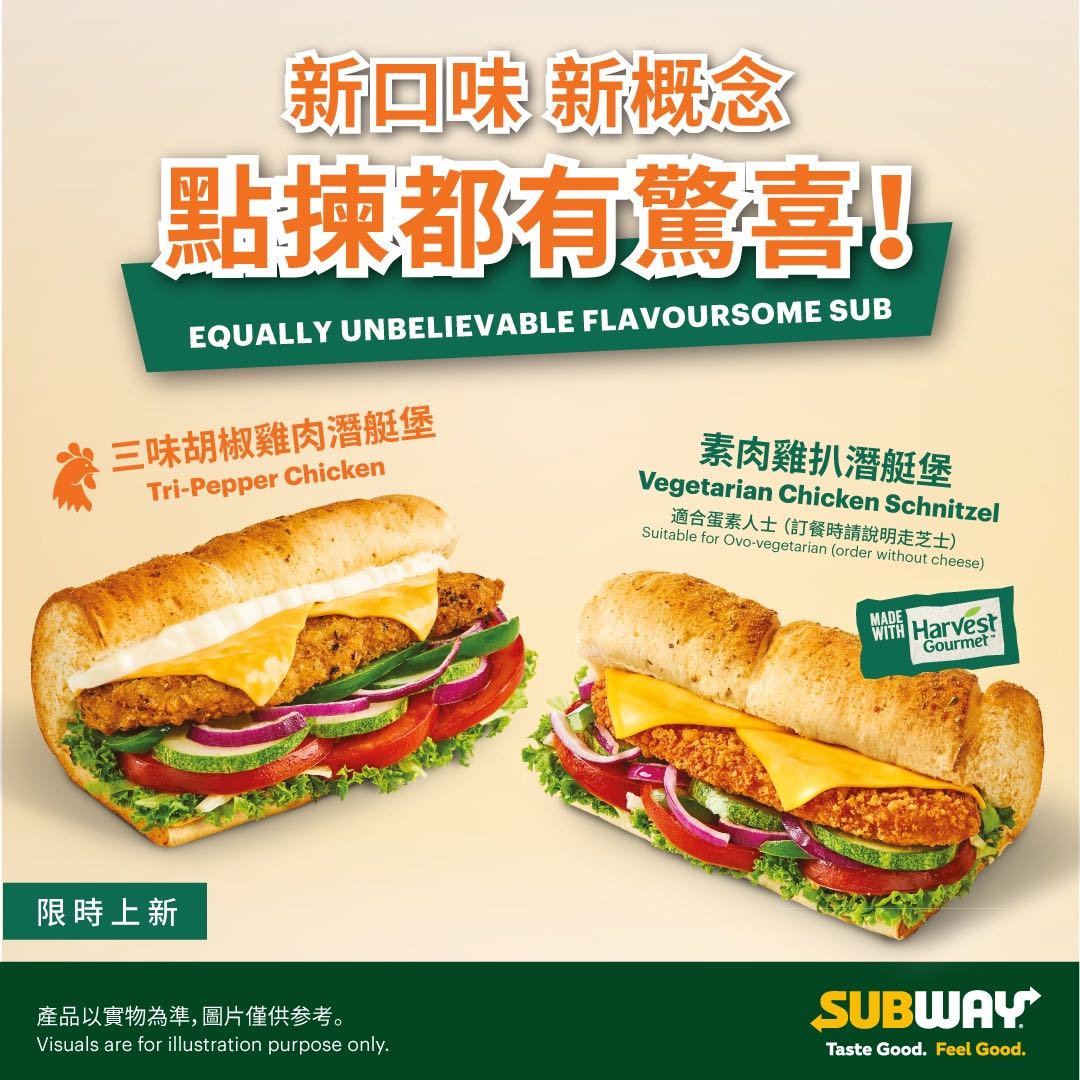 Subway HK Meal Box To-Go Deal
Getting bored with the meal boxes you are having everyday? Want to try something new? Take this opportunity to discover Subway HK's special Meal Box To-Go.
Each Meal Box will include a tasty six-inch sub of your choice, a freshly baked cookie, and a bag of crisps. Pay an additional charge if your want to add a drink.
The price starts from HK$47 with a wide range of choices such as Veggie Delight, Ham, Turkey, Roast Chicken, Ham & Turkey, Tuna, Spicy Italian, Roast Beef, Subway Club. And add HK$10 for a can of soda or water.
Each meal box can serve one person and you will need to buy at least 8 boxes for each order. Try it now!

Breakfast Time: Special Promotion
Subway HK now is providing special offers for your breakfast time now! There will be a wide range of choices for you and the offer will be available until 11 am everyday.
Go to any nearby Subway and grab a favorite taste and start your day with a healthy, filling breakfast!