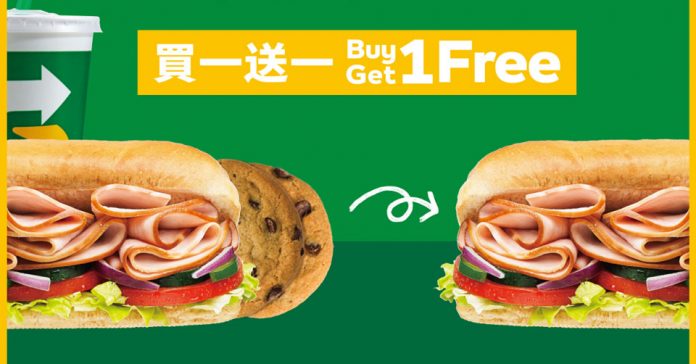 We'll be updating this article with the latest Subway Hong Kong coupons and promotions. Bookmark this page and keep checking back for special offers.
Alternatively, you may want to checkout dining deals from Popeyes, KFC, McDonald's, MOS Burger, Pizza Express, and Pizza Box!
Below are Subway deals for Feb 2020:
Subway's Offer: Buy 1 Get 1 Free
There is no better way to celebrate World Sandwich Day than coming to Subway.
Purchase a regular-priced 6-inch sub combo and get an extra 6-inch sub of the same type only today (Nov 8, from 11am to 7pm) at Subway! We will also donate $5 to St. James' Settlement for each event combo purchased. Come grab some sandwiches with your friends and share the joy!
While stocks last!
想慶祝「國際三文治日」,梗係要嚟Subway啦!
今日(11月8日)購買任何正價6吋潛艇堡套餐,即送你同款6吋潛艇堡1個!每購買一個活動套餐,Subway更會捐出$5俾「聖雅各福群會」,咁有意義嘅慶祝活動,點少得你嗰份?快啲同班朋友一齊嚟開心share啦!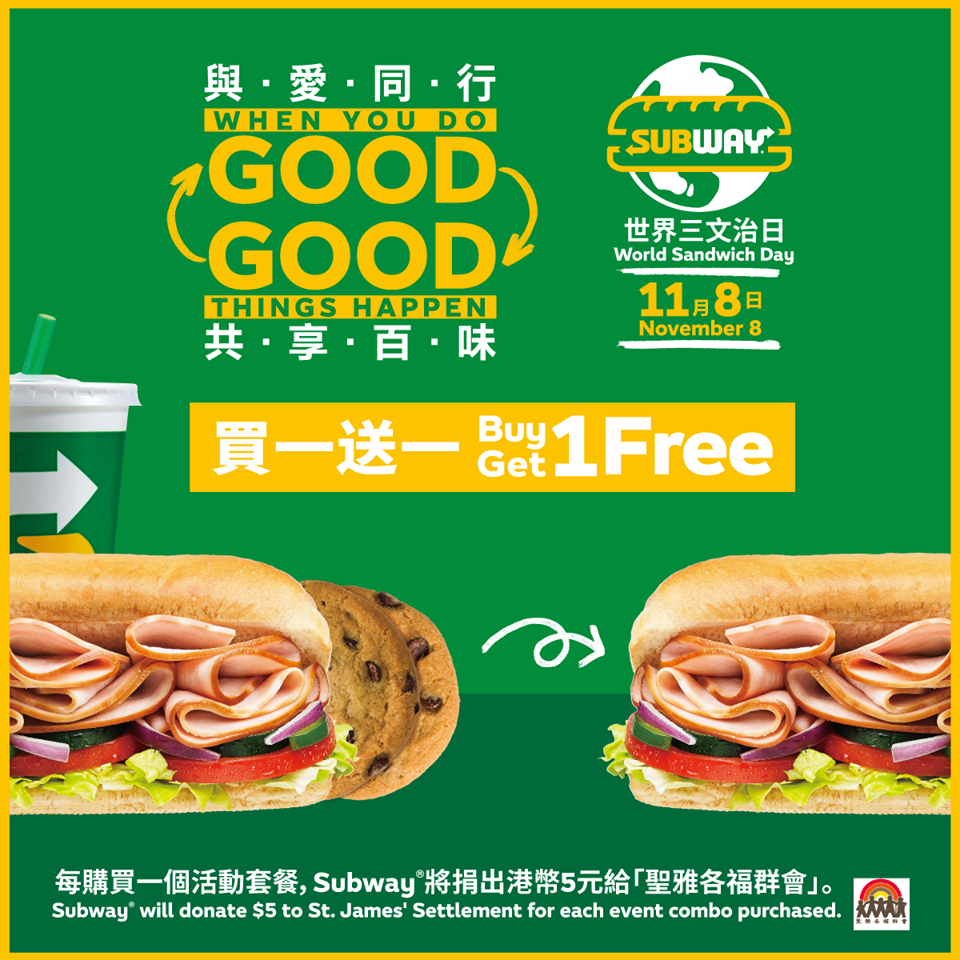 Terms & conditions:
Buy any regular combo with 6-inch sub, chips/ 2 cookies, and a drink (16 oz fountain drink or designated bottled drink) to get another 6-inch sub in standard recipe of equal or lesser value FREE.
Limited to one 6-inch free per person only.
Limited time offer and only at participating SUBWAY® restaurants in Hong Kong only (except Asia World-Expo, Ngong Ping, The University of Hong Kong, City University of Hong Kong, Hong Kong Polytechnic University, and Hong Kong University of Science & Technology restaurants).
Valid for in-store or takeaway purchases only.
Not applicable on delivery.
For more details, please consult Subway' Sandwich Artist.
Visuals are for illustration purposes only.
Not valid with other promotions or discounts such as Local Shop Marketing.
SUBWAY® reserves the right to amend or vary any terms and conditions when deemed necessary without prior notice.