Don't have any Citibank credit card? Apply now and get any 1 of these 5 exclusive rewards: Delsey Air Armour 4 wheels Travel Suitcase 30" (valued at HK$3,899; Random Color) or Marshall Stanmore II Wireless Speaker (valued at HK$3,499; Random Color) or Philips RO Water Dispenser ADD6901HWH01/90 (valued at HK$2,488; White) or HK$1,600 Apple Store Gift Card or HK$1,600 Wellcome Shopping Voucher for FREE.
We'll be updating this article with the latest Sushi Express Hong Kong promotions. Bookmark this page and keep checking back for special deals.
Sushi Express Promo: HK$10 voucher + free gift at HK$8
Sushi Express 2022 table calendar is released now, popular sushi characters have been added this year.
Don't hesitate to redeem this calendar gift by adding HK$8 in any purchase at any fresh takeaway branch (or at the fresh revolving branch starting from 1/11).
In addition, you will also get a HK$10 cash voucher with this deal. You can use it with any spending of HK$60 and above.
The promo is valid from now on until further notice. While stocks last.
Limited redemptions available. Don't miss the chance to enjoy the freshest sushi ever at Sushi Express and save more money with this deal.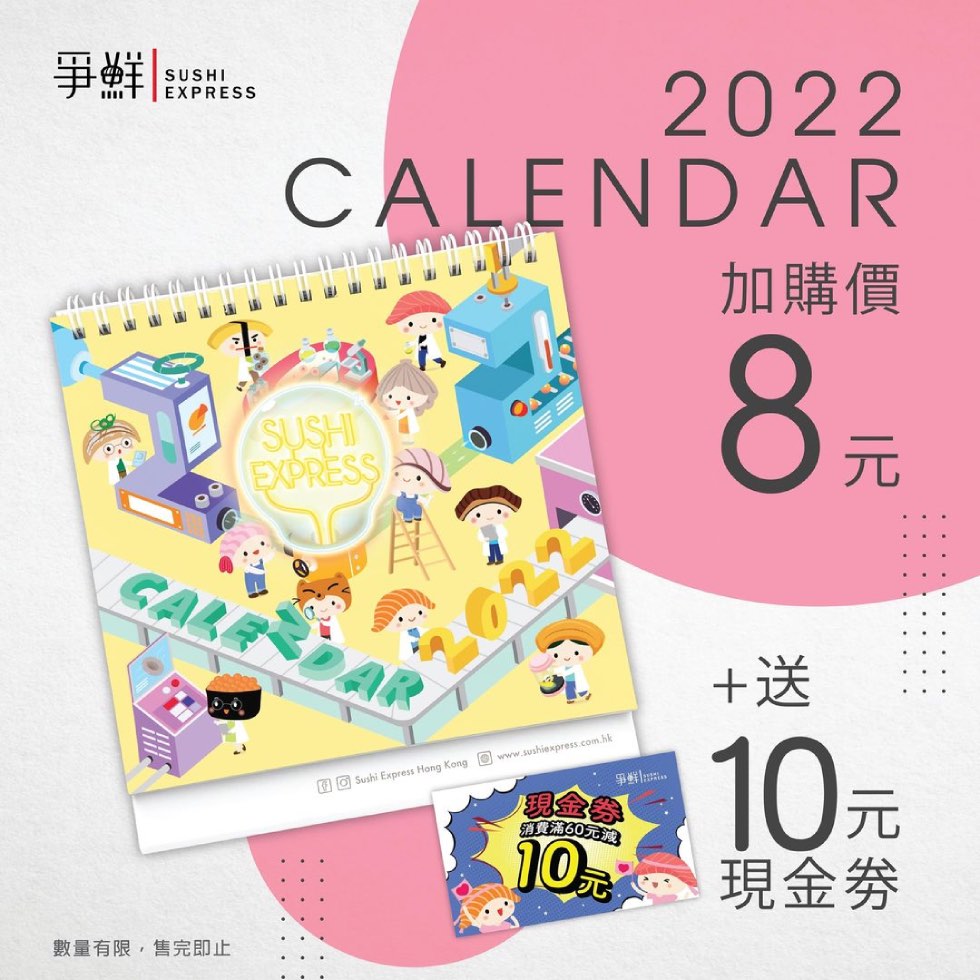 Sushi Express Fresh Conveyor Sushi Promotion: HK$8 and Above
Take advantage of this great promo from Sushi Express and enjoy a huge selection of conveyor sushi with the cheapest price now, including:
Salmon belly (親子三文魚腩) at HK$8: the most popular representative of red fish – Salmon, which is rich in fat and mild-tasting, plus salmon roe (三文魚籽) for only $8.
Extremely oily sweet fish sashimi (極上油甘魚刺身) at HK$16: with the firm and refreshing meat of the oil sweet fish from Ehime Prefecture, Japan, the fish taste promises to be fresh, sweet, and tasty than ever.
Halibut two-piece dish (比目魚二點盛) at HK$16: fatty, tender and seared Halibut pieces in this dish.
Check out these popular and delicious dishes and redeem this special promotion at Sushi Express. Hurry up!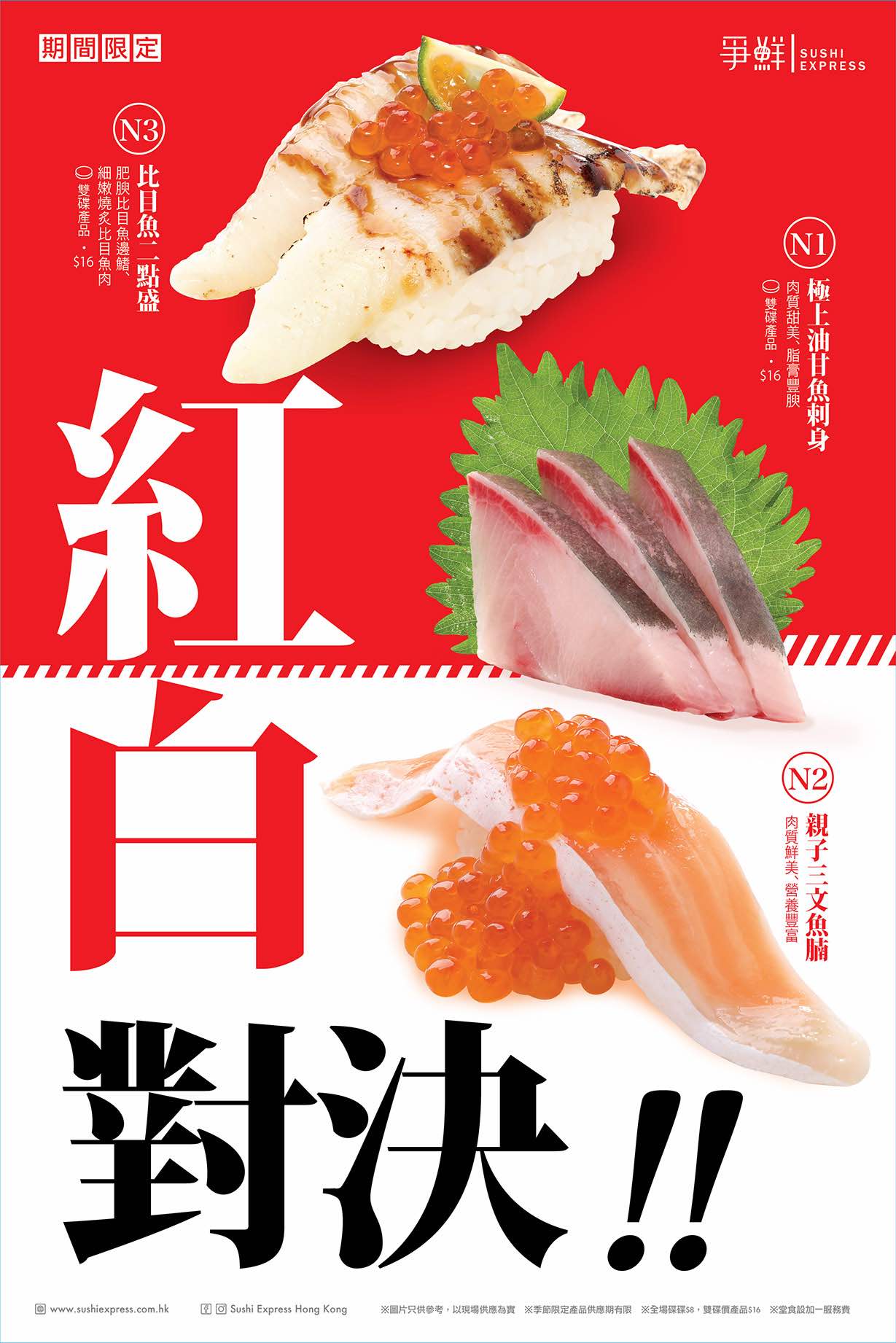 Sushi Express Instagram Free Gift Promotion
For a limited time, participate in the #HappySushi event on Sushi HK Instagram, you can have the opportunity to redeem beautiful gifts for free with selected excellent posts shared.
Grab this deal now before it ends!
定食 8 – New Menus on Sale at Sushi Express
Sushi Express just launched 定食 8 new menus with a wide range of deals available now!
In addition to changing different rice dishes and set meals, a new series of teppanyaki with the same pot will be added to the sets.
There will be selected recommended grilled side fin seafood don, salmon trio, lava onion sauce steak sizzling set meal; cheese and kimchi beef sizzling set meal available.
Terms & Conditions:
The set meal in this promo will come with miso soup and salad.
Add 10% service charge for dine-in, the meal time limit is 75 minutes.
Treat your friends, family, or yourself with new taste satisfaction from Sushi Express and snatch this promotion now!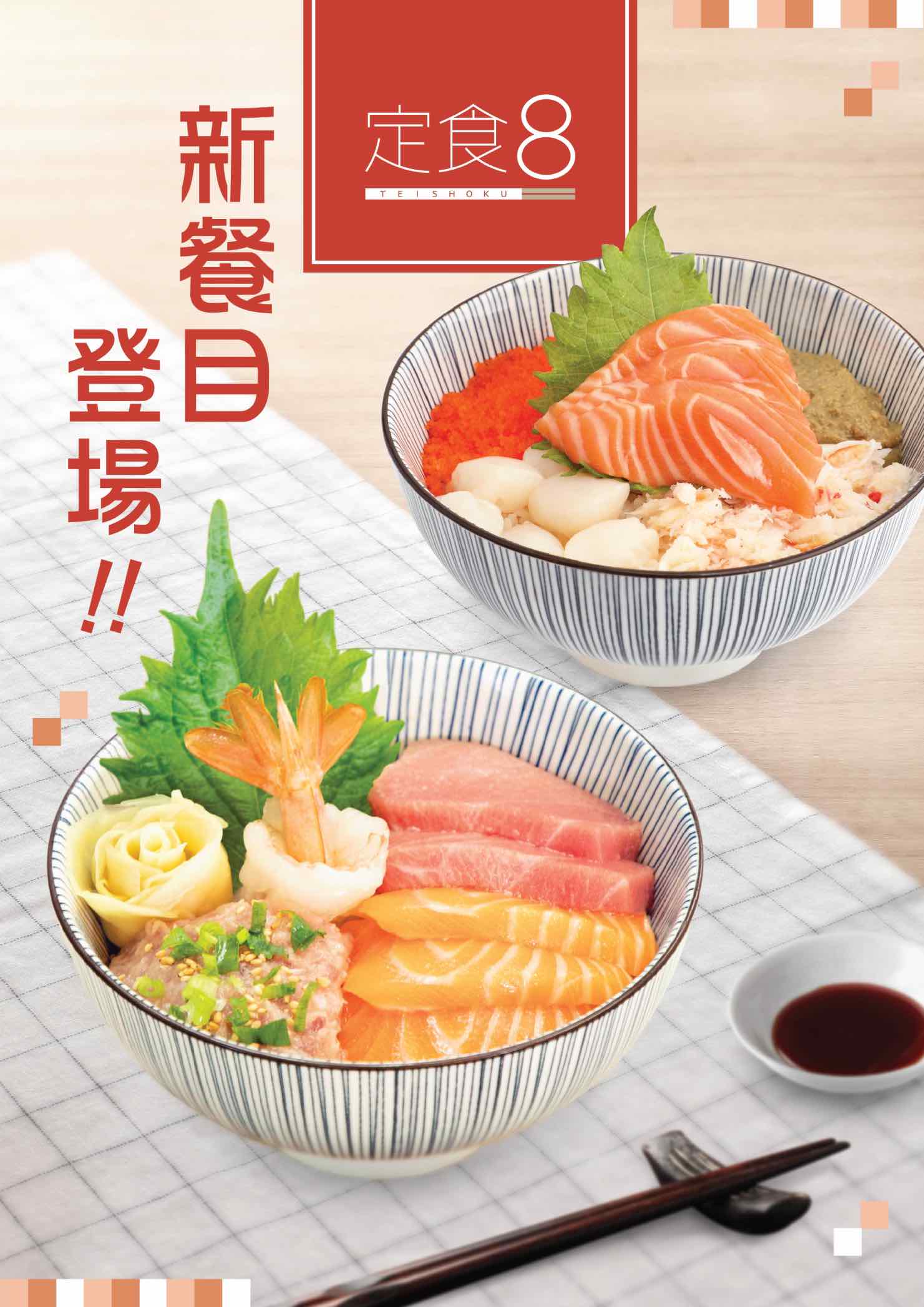 Conveyor Sushi-Energizing Thanksgiving Festival Promo: From HK$8
In order to thank everyone for their support all the way, Sushi Express has launched the Energizing Thanksgiving Festival promotion and repays everyone's love with great deals:
Burning Conger Eel with Sauce (汁燒穴子盛) at HK$16: Japanese conger eel meat is very tender and smooth and rich in collagen.
Sweet Shrimp and Salmon (甜蝦三文魚盛) at HK$8: The combination of the sweet shrimp and the fat and plump salmon is surprisingly matched in this dish.
Fresh scallops with two flavors (鮮の赤貝兩味) at HK$16: Scallops are crispy and sweet, and the scallop skirts are smoky and elastic. You can enjoy two flavors at once and feel the breath of the ocean.
Check it out now!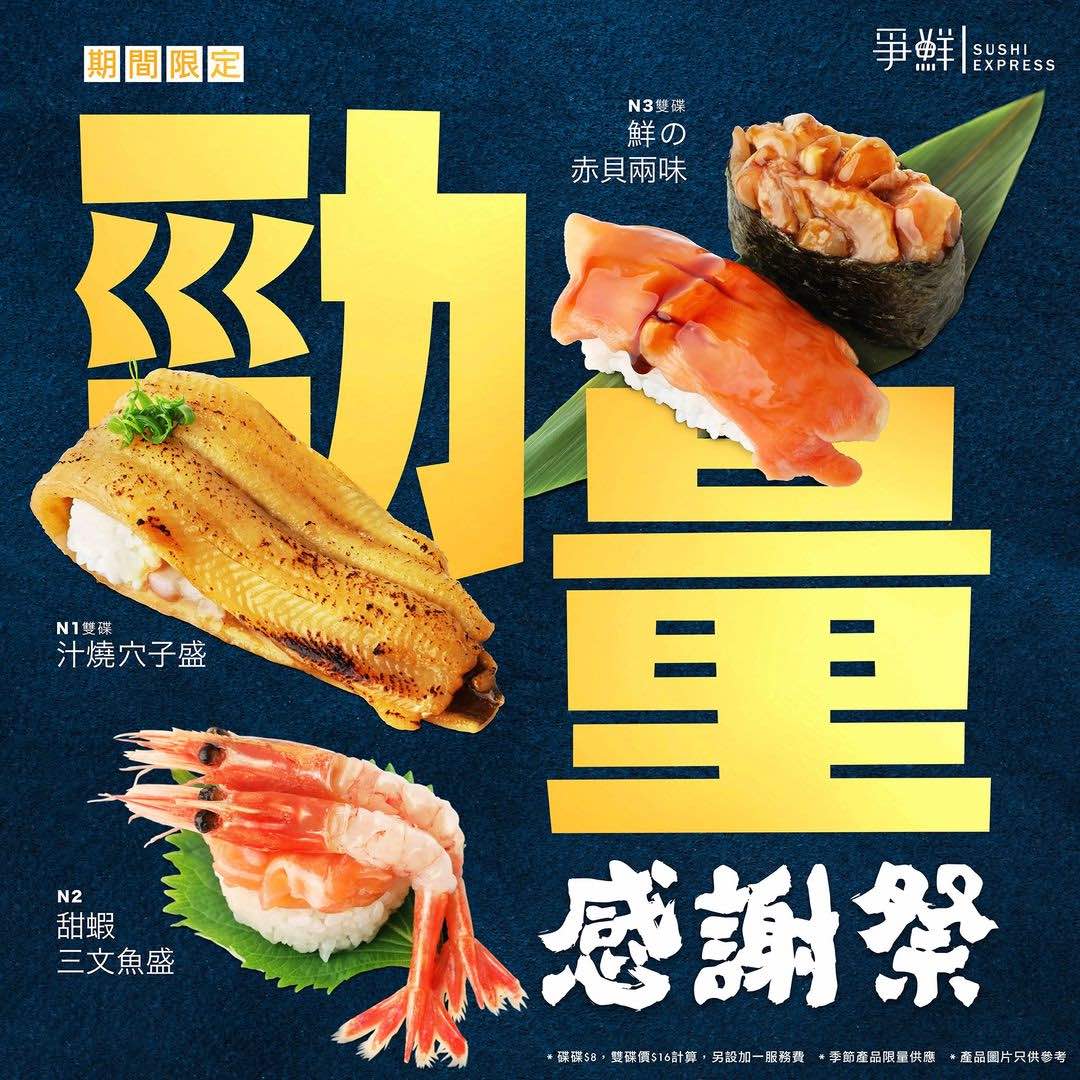 Sushi Express Sushi – Crab Festival Deals: From HK$30
Check out these three kinds of sushi that are specially brewed for take-out, and taste the delicious flavor of crabs from Sushi Express:
North Sea Crab Don (北海蟹の鮮丼) at HK$48: The soft, smooth meat and delicious taste of Matsuba crab, served with rich breaded crab and crab paste and kani miso.
Special Double Crab Paste (特濃二重蟹膏盛) at HK$36: The breaded crab paste is particularly rich and sweet and soft to try.
Soft Shell Crab Roll with Crab Roe Sauce (蟹黃醬軟殼蟹卷) HK$30: With the fragrant breaded crab, crab yellow sauce and kani miso, plus crispy lettuce and multi-spring fish roe, this will be a feast on the tip of the tongue, which is endless aftertaste.
Don't hesitate to try new tastes and grab these great deals now!