We'll be updating this article with the latest Innisfree promotions and sales. Bookmark this page and keep checking back for special deals.
Innisfree Monthly Exclusive Promotion: Up to 43% OFF
Take advantage of this chance and snag yourself most favorite and best-selling products from Innisfree with this September promo, the detail is as below:
Jeju Orchid set sale with 37% discount with the price at only HK$466 now (was HK$745). Set includes:

Jeju Orchid Enriched Cream Special Set
Jeju Orchid Eye Cream 30ml
Anti-aging set

Jeju Cherry Blossom set promo with 35% OFF original price, only HK$455 (was HK$703). Set includes:

Jeju Cherry Blossom Tone Up Cream set
Jeju Cherry Blossom Jelly Cream set
Jeju Cherry Blossom Jam Cleanser 150g
Volcanic Calming Pore Clay Mask 15ml
M.M.C. Micellar Oil Water 15ml
Super Volcanic Pore Cleansing Oil 15ml

Soybean energy set promotion for 43% saving, HK$625 now (original price is HK$1,100). Set includes:

Soybean Energy Essence AD 150ml
Soybean Energy Skin EX 200ml
Soybean Energy Neck Cream EX 80ml
Soybean Energy Essence AD 15ml x 2
Perfect 9 Repair Cream EX 10ml
Perfect 9 Repair Eye Cream EX 5ml x 2

My Foundation set discount for 22% OFF, HK$270 now (worth HK$345). Set includes:

My Foundation 1 piece
Perfect foundation brush (matte/shiny) 1 piece

Purchase at least HK$380 to snatch 3 free gifts (value HK$53) including Apple Seed Cleasing Oil 15ml + Apple Seed Lip & Eye Makeup Remover 15ml + Green Tea Cleansing Water 25ml.
Receive a gift set for free (worth HK$213) upon the net purchase of HK$580, gift set: 1 Second Morning Eco Bag (Apple or Lemon) + My Perfumed Body Green Tangerine Body Cleanser 30ml.
Spend at least HK$800 to grab the free gift set (worth HK$345): Second Morning blanket (lemon) + My Perfumed Body Green Tangerine Body Lotion 30ml + My Perfumed Body Green Tangerine Body Cleanser 30ml.
Promotion period: from now on until 31 October 2021.
Each person can only redeem this deal once. The quantity is limited, while stocks last. Head down to Innisfree store to nab this great promo now before it ends.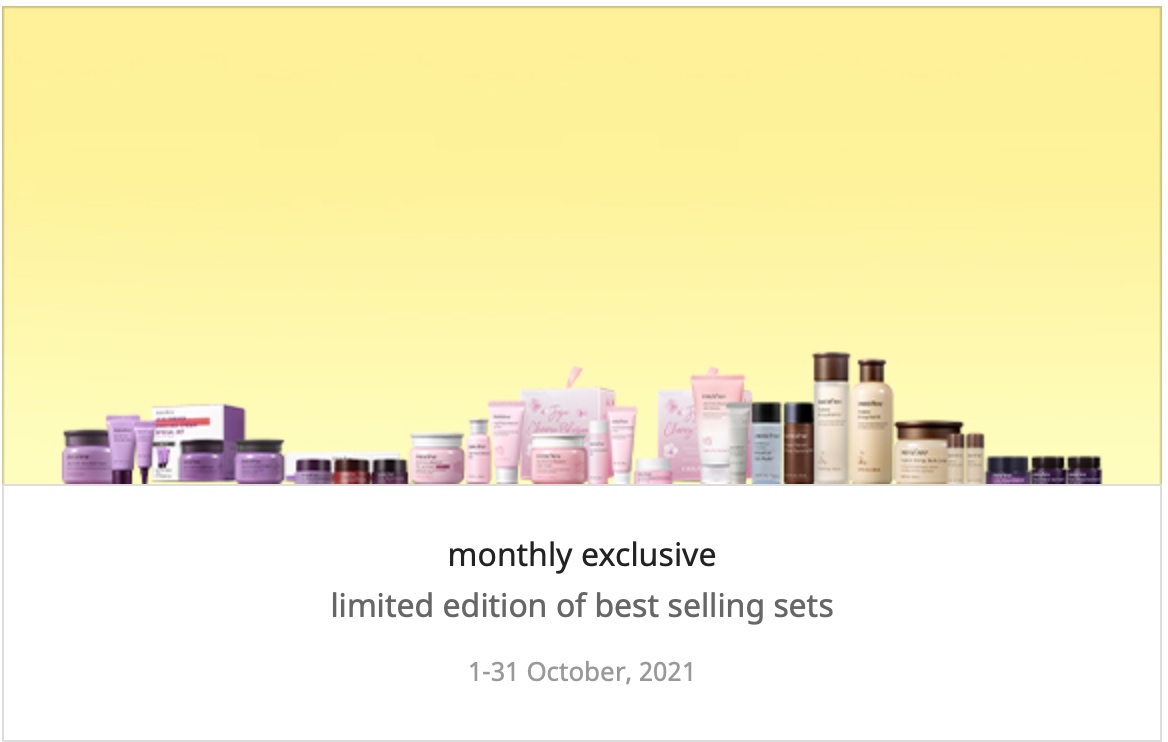 Innisfree x HKTVmall newest sale: 38% OFF
Try new products from Innisfree and save more on your orders with this Innisfree x HKTVmall newest promotions, detail is as below:
Maximize your saving with these great deals now. While stocks last.