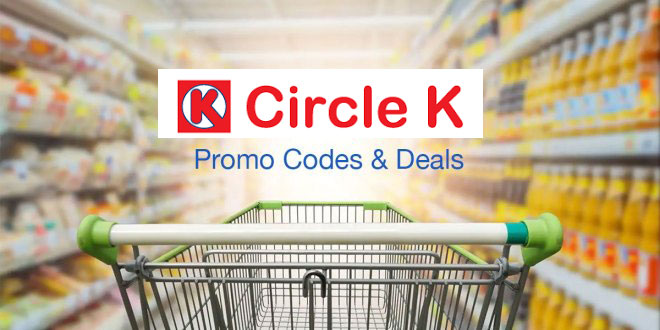 Don't have any Citibank credit card? Apply now and get any 1 of these 5 exclusive rewards: Delsey Air Armour 4 wheels Travel Suitcase 30" (valued at HK$3,899; Random Color) or Marshall Stanmore II Wireless Speaker (valued at HK$3,499; Random Color) or Philips RO Water Dispenser ADD6901HWH01/90 (valued at HK$2,488; White) or HK$1,600 Apple Store Gift Card or HK$1,600 Wellcome Shopping Voucher for FREE.
We'll be updating this article with the latest Circle K promo codes and deals. Bookmark this page and keep checking back for special sales.
Circle K Limited-time Promotion: HK$15 Deal
Wanna try more new tastes of ice cream for less? Check out this exclusive deal from Circle K convenience store with only HK$100 for 5 mini cups of Haagen-Dazs ice cream.
What's more, you will just need to add HK$15 more if you would like to get the 6th cup.
The average is only HK$19.2/cup now when you shop with this promotion.
Promotion period: From 18 to 21 November 2021.
Terms and Conditions apply. Grab your favorite items now before the sale ends.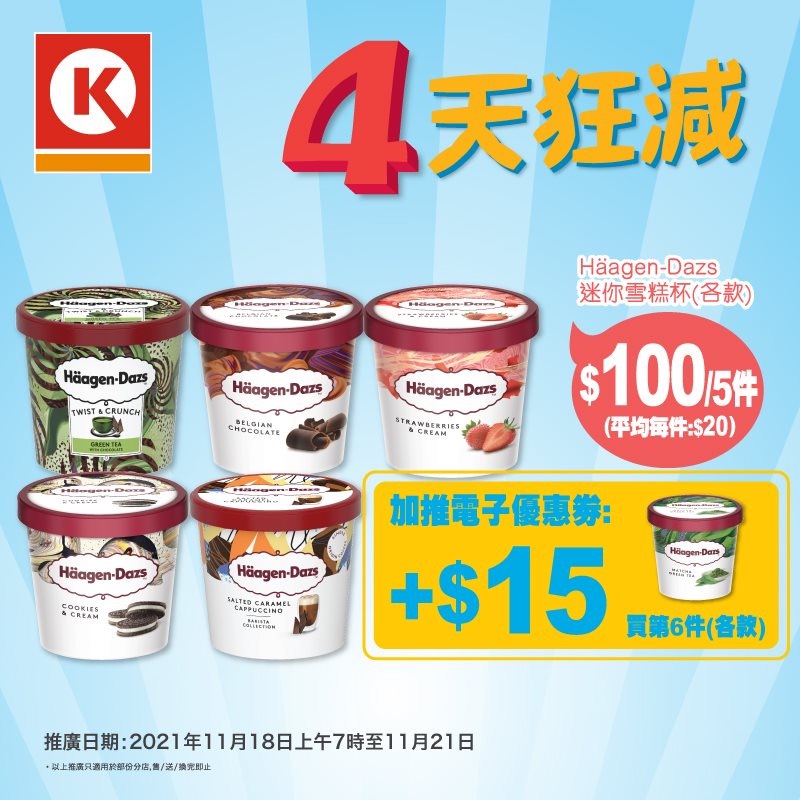 Circle K – MyCard Exclusive Promotion: 5% points rebate
Take advantage of this special deal and purchase designated MyCard denominations at a Circle K convenience store and enjoy 5% points rebate.
The quantity is limited, first come first served, while stock lasts.
*The event is only applicable to point cards purchased at "OK Convenience Stores" in Hong Kong and Macau and designated denominations.
*After receiving the gift card number and password, please redeem it as soon as possible. If it is overdue, it will be deemed to have been abandoned, and no reissue will be made.
Hurry down to your nearest Circle K store and grab this promo now. Don't miss it!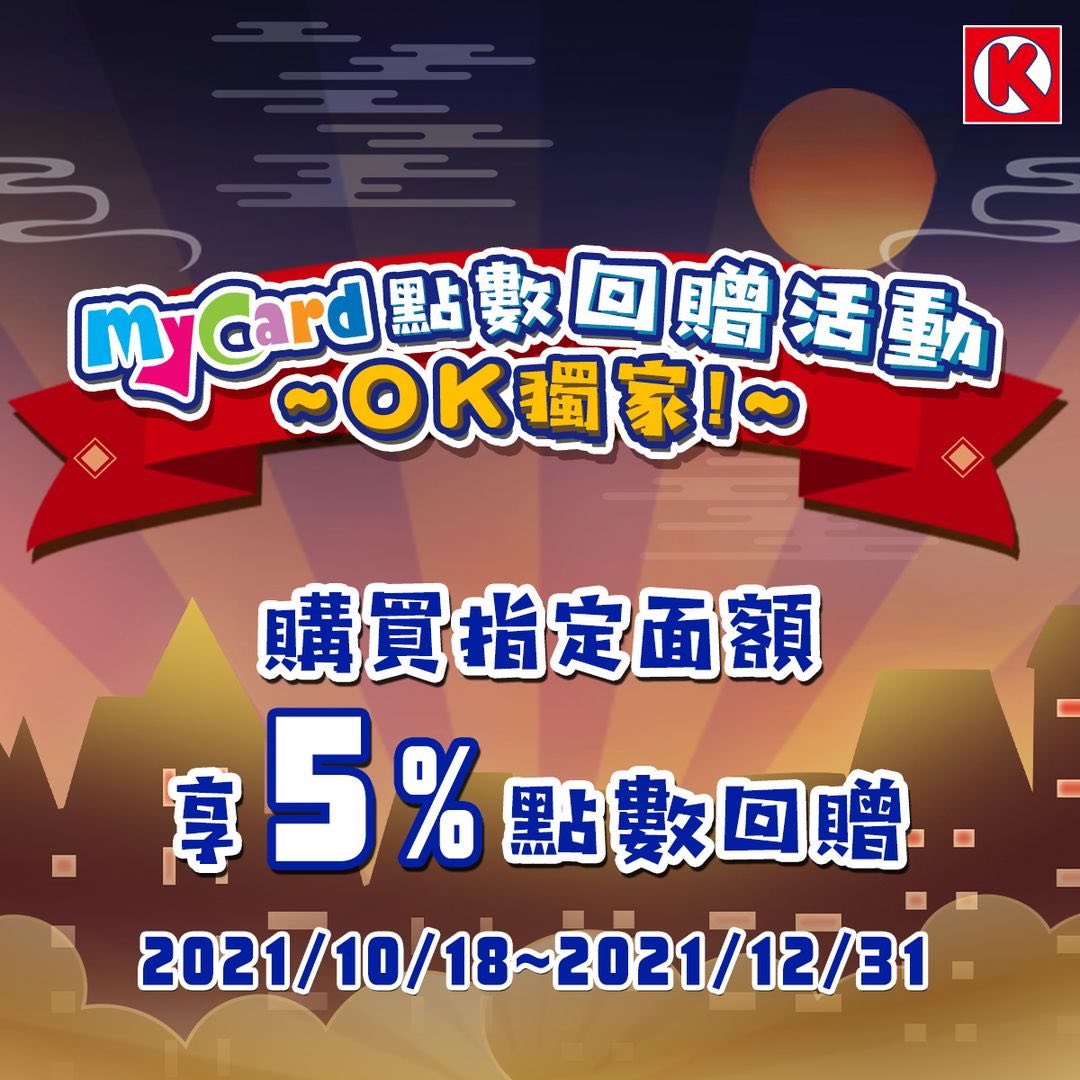 OK Stamp IT New Registered Member Promo: HK$30 Coupon
Google Play users pay attention to this exclusive offer from Circle K Hong Kong now!
By downloading the OK Stamp IT App and successfully register as a member, you can receive a HK$30 coupon immediately.
The coupon includes a HK$20 Google Play voucher on any Google Play gift card and a HK$10 OK convenience store electronic cash voucher that can be used for shopping.
Don't forget to enter the promotion code GoogleCode is copied when registering for the membership.
Promotion Date: From now to 24 November 2021.
The quota is limited, first come first served. Hurry up!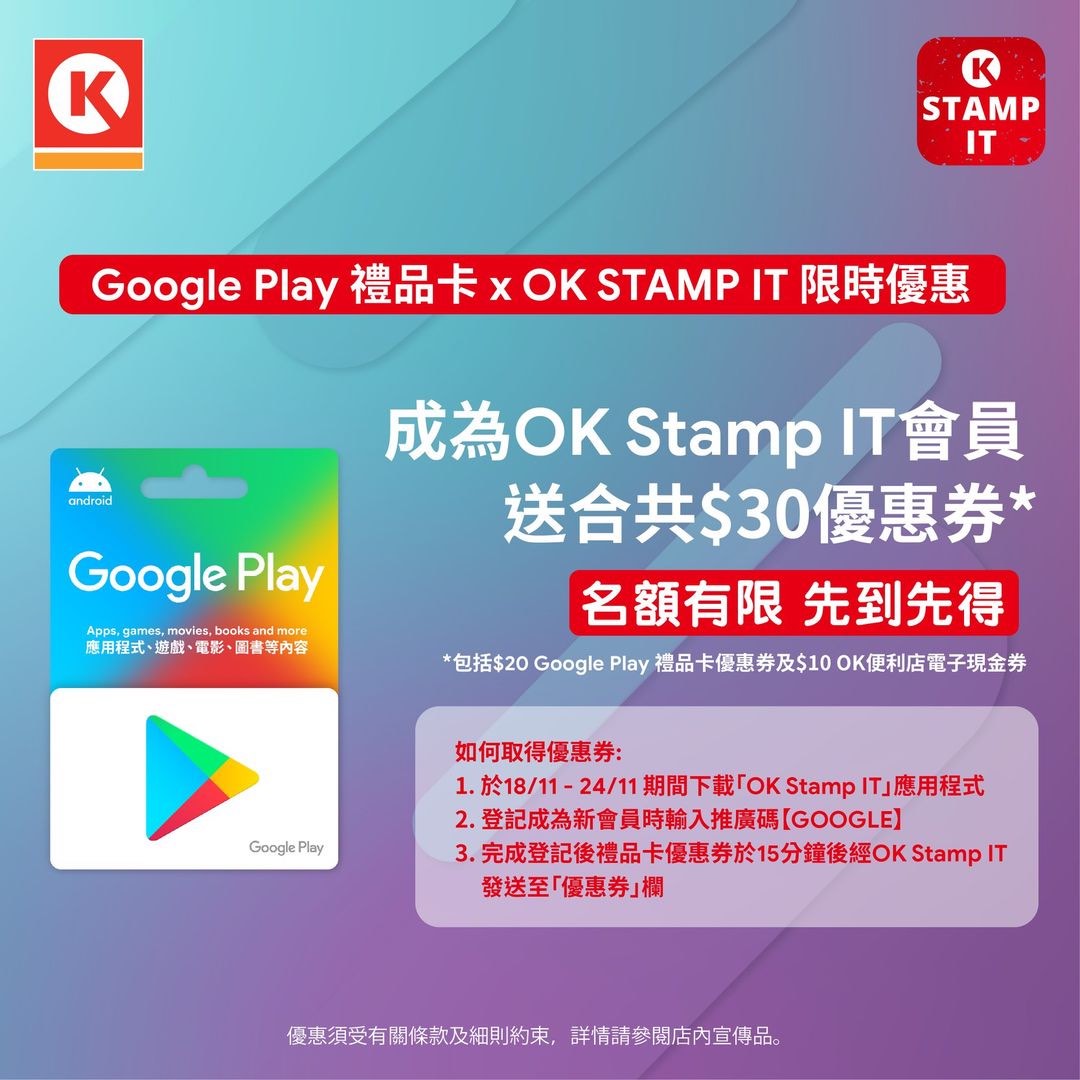 Circle K x Citi Credit Card Promo: HK$280 cash coupon
From now on, OK members can use the Citi points of your Citi credit card via OK Stamp It App to redeem OK cash coupons when you reach the specified amount.
You can have a chance to earn an extra up to HK$280 cash coupon during this entire Circle K promotion period, the detail is as below:
Earn HK$10 upon spending of HK$50
Earn HK$30 upon spending of HK$100
Earn HK$70 upon spending of HK$200
Promotion period: 15 September 2021 to 31 December 2021.
Limited quota on a first-come-first-served basis.
Grab your coupons now!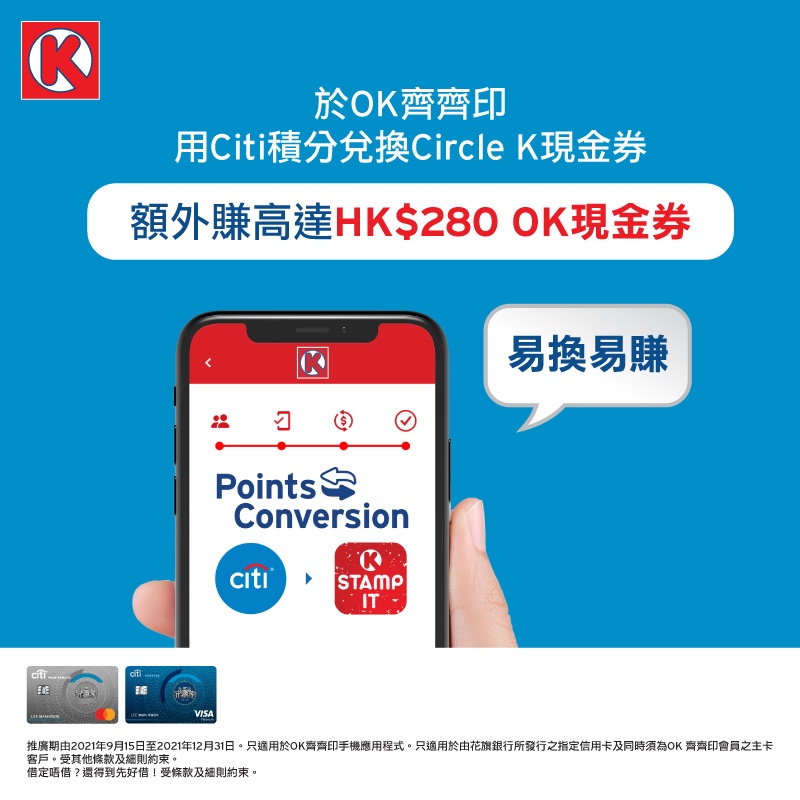 OK Stamp IT Member Discount: From HK$12/piece
OK Stamp IT members now can enjoy numerous member price discounts when purchasing the following products with coupons at Circle K:
SKIPPY Peanut Chocolate Ice Cream Biscuit/Winter Dump HK$25/2 pieces.
READY Pure Orange Juice/Elderflower Pure Fresh Apple Juice 500ml Bottle HK$17.9/piece.
SUMO Sandwich (various flavors) HK$20/piece [Collect 10 e-stamps to get 1 item for free].
Shanrong wine snacks 17-42g HK$12/piece.

Promo period: from now until 1 December 2021.

Limited time offer. Terms & Conditions apply. Go to Circle K and grab the latest promotion now before it ends.

Circle K Exclusive Promo: 1-For-1

Don't forget to check out the amazing deal from Circle K convenience store with buy 1 get 1 free offer upon the purchase of Häagen-Dazs 4 designated crispy ice cream bars.

The ice creams offered in this promo includes:
Hami Melon Crispy Ice Cream Bar.
Mango Crispy Ice Cream Bar.
Red Mulberry Crispy Ice Cream Bar.
Strawberry Daichili Crispy Ice Cream Bar.
Promo period: From 18 November to 1 December 2021.
Terms and Conditions apply. Limited time offer.
Go to the Circle K convenience store to purchase your favorite Häagen-Dazs flavor and enjoy this promotion right away!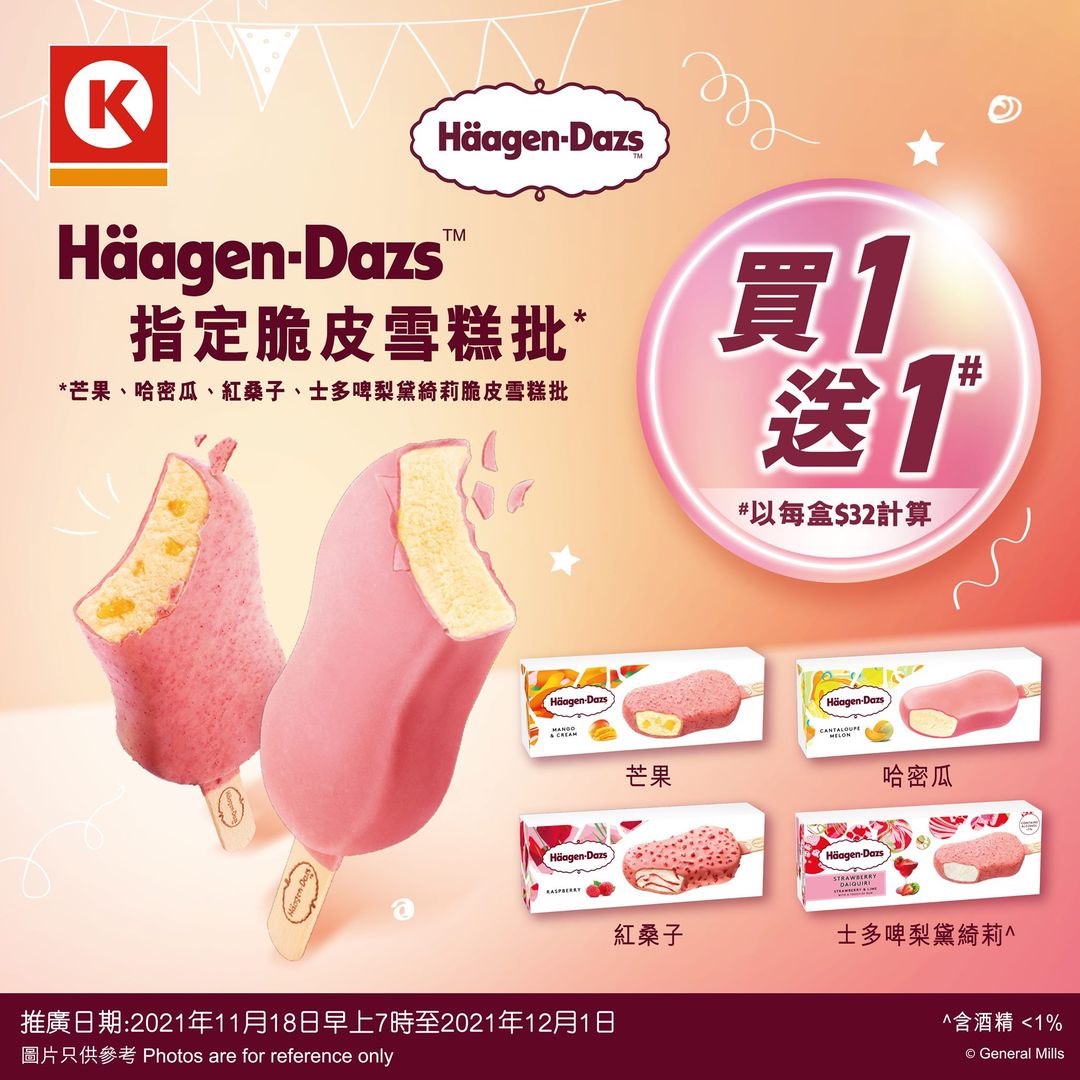 E-milk Card Promotion: From HK$4.5 Up
To thank you for customers' long-term support Circle K is now offering 6 discount cards on milk, soy milk, and yogurt drinks to everyone.
When shopping at any Circle K, you can enjoy the discount prices on the cards as long as you show them to the cashier.
Promotion period: From 2 September to 29 December 2021.
This promo can be redeemed upon the purchase of at least HK$20. You can use the discount cards unlimited times within the promo date.
Remember to save the photo collection to your mobile phone and seize this exclusive deal now before it's gone!