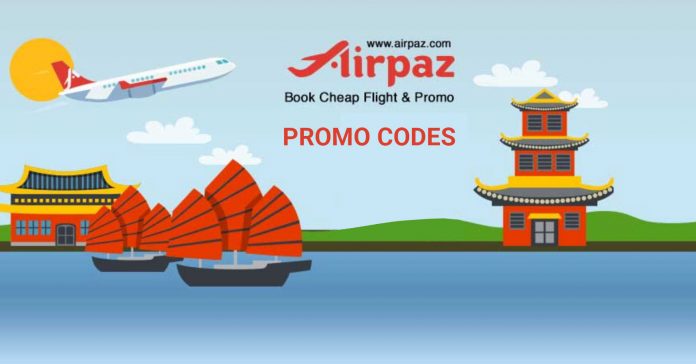 We'll be updating this article with the latest Airpaz Hong Kong promo codes and deals. Bookmark this page and keep checking back for special offers.
Below are Airpaz promo codes and deals for May 2019:
WEEKDAYS SPECIAL!
From 1 April 2019 to 5 May 2019, all bookings made every Monday to Wednesday will enjoy HK$35 OFF (min purchase of HK$500)with promo code HKADVENTURECode is copied. Book now.
Terms and Conitions:
Travel Period: Anytime.
Promo is valid for AirAsia Group (AK/FD/QZ), HK Express (UO), Malaysia Airlines (MH), Tiger Scoot (TR) and Vietjet Air (VJ) flights.
Promo is valid for one way flights or round trip flights both Domestic and International.
Promo is valid for all payment methods (Currency HKD/Hong Kong Dollar).
Booking can be done through our Website, Mobile site, or Application (Android/iOS).
This promo cannot be combined with other Airpaz promo/vouchers.
Fares bought in this promotion are non-refundable.
Airpaz reserves the right to cancel the discount if it is not in accordance to these Terms & Conditions.
Airpaz reserves the right, at any time, without prior notice and liability and without assigning any reason whatsoever, to add/alter/modify/change or vary all of these terms and conditions or to replace, wholly or in part, this offer by another offer, whether similar to this Offer or not, or to extend or withdraw it altogether.
Other EXCLUSIVE Offers! Up to 81% OFF
Save up to 81% OFF (no code needed) for Flight from Hong Kong to Ho CHi Minh, Singapore, Jeju, Taichung, Busan, Seoul. Happy exploring!!!
Travel Period:
From now to September 2019.

| AIRLINES | ROUTES | DATE | OFFERS | RECOMMENDED FLIGHTS |
| --- | --- | --- | --- | --- |
| Vietjet Air | Hong Kong -> Ho Chi Minh | April 2019 | 82% OFF | HK$576 |
| Vietjet Air | Hong Kong -> Ho Chi Minh | April 2019 | 78% OFF | HK$672 |
| HK Express | Hong Kong -> Taichung | April 2019 | 77% OFF | HK$558 |
| HK Express | Taichung -> Hong Kong | May 2019 | 55% OFF | HK$440 |
| Vietjet Air | Hong Kong -> Ho Chi Minh | May 2019 | 81% OFF | HK$576 |
| Vietjet Air | Ho Chi Minh -> Hong Kong | May 2019 | 50% OFF | HK$491 |
| Air Busan | Busan -> Hong Kong | May 2019 | 81% OFF | HK$594 |
| Vietjet Air | Ho Chi Minh -> Hong Kong | June 2019 | 72% OFF | HK$491 |
| Vietjet Air | Hong Kong -> Ho Chi Minh | June 2019 | 81% OFF | HK$576 |
| Scoot | Hong Kong -> Singapore | June 2019 | 61% OFF | HK$538 |
| Air Busan | Hong Kong -> Busan | June 2019 | 79% OFF | HK$710 |
| Air Busan | Busan -> Hong Kong | June 2019 | 81% OFF | HK$594 |
| HK Express | Hong Kong -> Seoul Incheon | June 2019 | 42% OFF | HK$748 |
| Jeju Air | Seoul Incheon -> Hong Kong | June 2019 | 78% OFF | HK$876 |
| Jeju Air | Jeju -> Hong Kong | June 2019 | 71% OFF | HK$670 |
| HK Express | Seoul Incheon -> Hong Kong | June 2019 | 42% OFF | HK$721 |
| Vietjet Air | Ho Chi Minh -> Hong Kong | July 2019 | 80% OFF | HK$580 |
| Jeju Air | Jeju -> Hong Kong | July 2019 | 45% OFF | HK$840 |
| Jeju Air | Hong Kong -> Jeju | July 2019 | 44% OFF | HK$930 |
| Jeju Air | Seoul Incheon -> Hong Kong | July 2019 | 78% OFF | HK$876 |
| Jeju Air | Hong Kong -> Seoul Incheon | July 2019 | 77% OFF | HK$930 |
| Air Asia | Kota Kinabalu -> Hong Kong | August 2019 | 55% OFF | HK$499 |
| Vietjet Air | Ho Chi Minh -> Hong Kong | August 2019 | 60% OFF | HK$580 |
| Vietjet Air | Hong Kong -> Ho Chi Minh | August 2019 | 79% OFF | HK$665 |
| Jeju Air | Jeju -> Hong Kong | August 2019 | 45% OFF | HK$840 |
| Jeju Air | Hong Kong -> Jeju | August 2019 | 44% OFF | HK$930 |
| Jeju Air | Seoul Incheon -> Hong Kong | August 2019 | 78% OFF | HK$876 |
| Jeju Air | Hong Kong -> Seoul Incheon | August 2019 | 77% OFF | HK$930 |
| Vietjet Air | Hong Kong -> Ho Chi Minh | September 2019 | 58% OFF | HK$511 |
| Jeju Air | Jeju -> Hong Kong | September 2019 | 46% OFF | HK$875 |