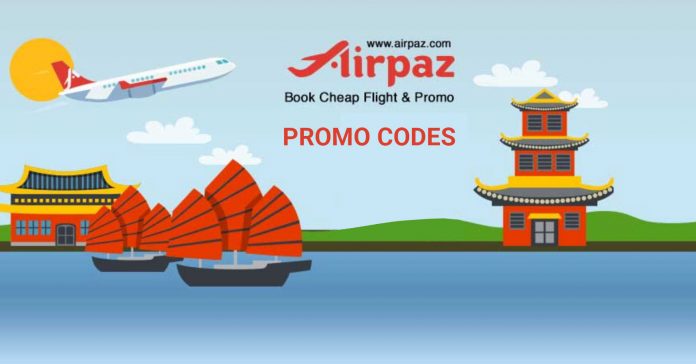 We'll be updating this article with the latest Airpaz Hong Kong promo codes and deals. Bookmark this page and keep checking back for special offers.
Below are Airpaz promo codes and deals for Nov 2019:
CHEAP AIRLINE TICKETS & PROMO TICKETS: Up to 85% OFF!
Save up to 85% OFF (no code needed) for Flight from Hong Kong to Seoul Incheon, Kuala Lumpur, Bangkok, Jeju. Happy exploring!!!
Travel Period:
From now to February 2020.

| AIRLINES | ROUTES | DATE | OFFERS | RECOMMENDED FLIGHTS |
| --- | --- | --- | --- | --- |
| Jeju Air | Jeju -> Hong Kong | September 2019 | 66% Off | HK$ 535 |
| Jeju Air | Hong Kong -> Jeju | September 2019 | 81% Off | HK$ 721 |
| Jeju Air | Hong Kong-> Seoul Incheon | September 2019 | 82% Off | HK$ 721 |
| Air Busan | Hong Kong -> Busan | September 2019 | 77% Off | HK$ 750 |
| Malindo Air | Kuala Lumpur International -> Hong Kong | October 2019 | 64% Off | HK$ 526 |
| Jeju Air | Jeju -> Hong Kong | October 2019 | 79% Off | HK$ 742 |
| Jeju Air | Seoul Incheon -> Hong Kong | October 2019 | 79% Off | HK$ 777 |
| Jeju Air | Hong Kong -> Seoul Incheon | October 2019 | 77% Off | HK$ 911 |
| Jeju Air | Hong Kong -> Jeju | October 2019 | 48% Off | HK$ 941 |
| Air Busan | Busan -> Hong Kong | November 2019 | 76% Off | HK$ 663 |
| Jeju Air | Jeju -> Hong Kong | November 2019 | 76% Off | HK$ 880 |
| Jeju Air | Seoul Incheon -> Hong Kong | November 2019 | 75% Off | HK$ 915 |
| Air Busan | Busan -> Hong Kong | December 2019 | 66% Off | HK$622 |
| Thai Airways | Bangkok -> Hong Kong | December 2019 | 60% Off | HK$1,134 |
| Hong Kong Airlines | Hong Kong -> Bangkok | December 2019 | 65% Off | HK$1,325 |
| AirAsia | Kota Kinabalu -> Hong Kong | January 2020 | 56% Off | HK$ 475 |
| Thai AirAsia | Hong Kong -> Bangkok | January 2020 | 54% Off | HK$ HK$ 698698 |
| Air Busan | Busan -> Hong Kong | January 2020 | 63% Off | HK$ 657 |
| Vietjet Air | Ho Chi Minh -> Hong Kong | January 2020 | 71% Off | HK$ 668 |
| Cebu Pacific | Manila -> Hong Kong | January 2020 | 57% Off | HK$ 670 |
| Vietjet Air | Hong Kong -> Ho Chi Minh | January 2020 | 73% Off | HK$ 650 |
| Air Busan | Hong Kong -> Busan | January 2020 | 69% Off | HK$ 820 |
| Malindo Air | Hong Kong -> Kuala Lumpur | February 2020 | 54% Off | HK$ 505 |
| Vietjet Air | Ho Chi Minh -> Hong Kong | February 2020 | 71% Off | HK$ 668 |
| Vietjet Air | Phu Quoc -> Hong Kong | February 2020 | 74% Off | HK$ 673 |
| Scoot | Singapore Changi Intl Airport -> Hong Kong | February 2020 | 76% Off | HK$ 714 |